Gateway Server Technologies Group
GargantuaServer(TM) Internet Gateway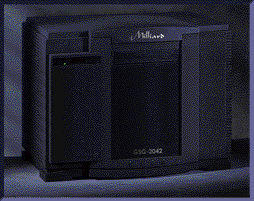 If your browser supports Progressive JPEG,
click on the image to get the full picture.

Profits are up again at Vogon Heavy Industries. One of the first investments they credit, is their Milliard server. It's superior blend of leading edge technology, award winning performance and legendary reliability have garnered it the hard to achieve respect of VHI.
It is no surprise that as their system needs have grown, VHI stays with Milliard Technology to meet their Gateway Server demands. Recently, they upgraded to a new level of capability, retiring their GSG-540 system, and replacing it with our new GSG-2042 series. This latest generation of GargantuaServer(TM) comes pre-loaded with our new GargantuaScape(TM) multi-Net to Sub-Ether trunk server O/S. Together with 32 hour on-site maintenance and an unlimited 3.5 year warranty, the Vogons know they can expect years of worry free operation. We certainly don't want to let them down!
"Our office is very pleased with our Milliard gateway. It's quick, has low off-line time, and meets our cost objectives. The blend of up to date Sub-ether technology and good looks add up to a great value. Our people enjoy using it, and they take fewer work breaks, so we've seen a large increase in productivity since installing this gateway!"

Although Milliard Technologies does not operate a corporate sales office in your galactic sector, Vogon Heavy Industries can, but may not, supply your company or organization with Milliard products. Generosity is not in their nature, but greed certainly is. If you have enough Alterian dollars, they will begrudgingly assist you. Please contact VHI for more information.
"Milliard Technologies... Providing Gargantuan
solutions for everyday needs."
---